Community Header
Community
When you become a 511NY Rideshare member, you are not just gaining access to transportation resources and ridematching - you are joining a community of people working together to make the world a better place - one small choice at a time.
refer a friend block
Refer a Friend
Help the 511NY Rideshare community grow. Login to your account to refer a friend and when they register we'll send you each a $10 reward card* to say thanks!
*limits apply
Editable Box
Instead of taking the subway from Astoria to Manhattan, I take the NYC ferry - it's the same price but so much more scenic!
Commuter Spotlight Member Benefits Facebook
Commuter Spotlight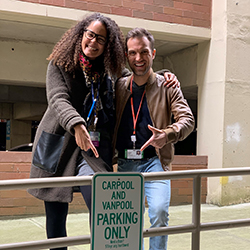 Meet Julien and Naomi, two Northwell Health employees that have been commuting together in a carpool for over a year. They save two hours per day thanks to the HOV lane on Long Island and preferred parking for carpoolers. Naomi says ""It's a great way to save money and have a nice commute with great conversation"
Member Benefits
As a 511NY Rideshare member, you have access to discounts and member benefits - just for making smart transportation choices!
Enjoy discounts with Enterprise CarShare: no application fee and first-year membership fee to join (a $65 value) and $20 in driving credits.
Enterprise Rent-A-Car: 5%-10% discount off retail rates for car rentals in New York (varies by location).
Endless Trail Bikeworx is offering a $10 discount on full-day bike rentals - $25 for the full-day rental (normally $35). Members just need to call ahead to reserve in advance and mention the offer from 511NY Rideshare.
Don't forget that as a 511NY Rideshare member, you have access to other great free services like our Guaranteed Ride Program, which ensures a ride home for you in case of an emergency.